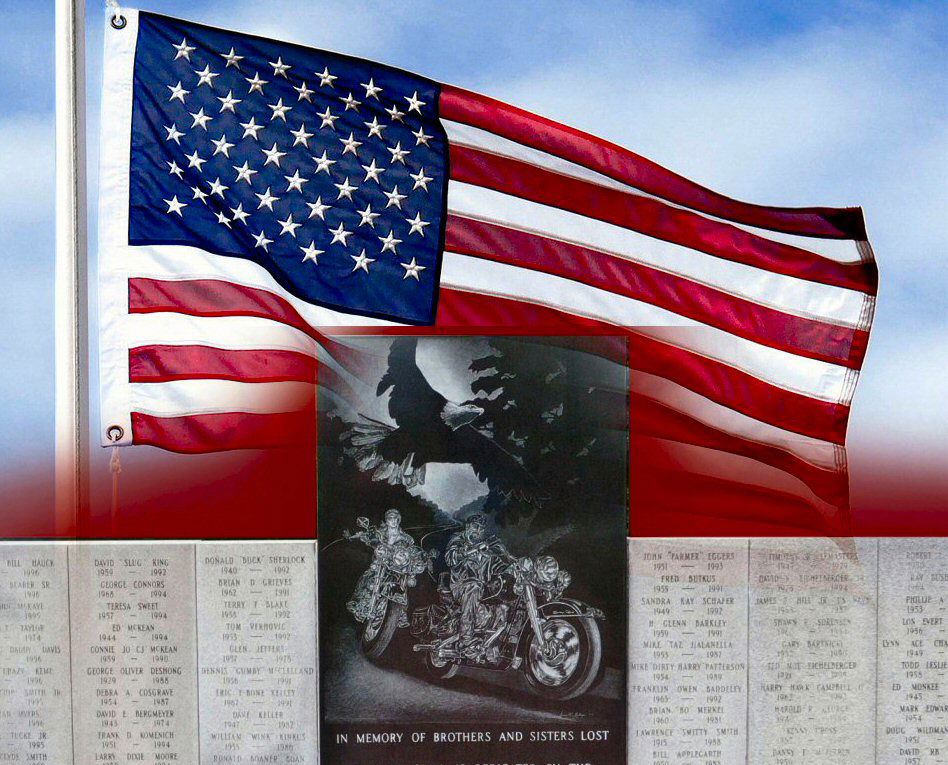 It was a handful of dedicated bikers that conceived the idea of the MOTORCYCLIST MEMORIAL. And dedicated the site to lost Brothers and Sisters. This dream slowly grew into reality with the formation of THE MOTORCYCLIST MEMORIAL FOUNDATION. In the beginning the major task was raising the money so the building could start. Through many fund raisers such as, poker runs, dances, selling T-shirts and help from several taverns (that sold silhouettes of motorcycles that hung on walls of their bars), and the members of Abate of Ohio Region One, Hopedale American Legion Post 682, and numerous friends. The money was raised in a very short time.
Milligan Memorials of Coshocton, Ohio, was awarded the job of doing the etching and ordering the Black Stone that stands so majestically on top of the grassy knoll. The Monument is made of Indian Black Stone which is the darkest of all marbles. The beautiful and touching words inscribed on the back side of the Stone were written by, Dan Waterfield of Oregon Ohio, which truly expresses one's feelings. It is hard not to shed a tear when you read this beautiful tribute. Anne Milligan, etched the image of the man and woman riding their motorcycles on the winding road with an Eagle flying with them. Tim Milligan, installed and etched the names of the loved ones lost on the gray pillars and does to this day.
On July 23, 1993, the MOTORCYCLIST MEMORIAL was unveiled to the public. Every year on MEMORIAL DAY WEEKEND a Re-Dedication of the WALL is celebrated in loving memory of our brothers and Sisters lost. Sadly, every year, more names are added to the granite pillars that flank each side of the monument in two rows now. The MOTORCYCLIST MEMORIAL WALL holds names of brothers and sisters from across this great country and around the world.
Expansion of the memorial that has taken place over the years include, more granite pillars, the two motorcycle that are made from the same black granite as the Mother Stone, and a new row in 2022. Paul Jones of Jewett, Ohio came up with the concept for THE WALKWAY OF MEMORIES, which adds a very special feel to the brick sidewalk that surrounds the memorial.
Please plan to visit this Sacred and Hallowed site to take a moment to reflect and remember those that we have lost.
The Re-Dedication weekends are an especially enjoyable time to visit...seeing old friends and meeting new.
We here at the Memorial would love to see you each year!
Ride on... and Ride Safe Brothers & Sisters...!